Abstract art painting
of an American homeless man
122 by 100 cm - oils and acrylics on paper
---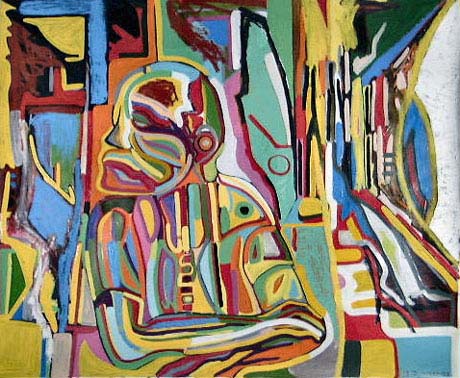 The beginning of this artist's interest in abstract art coincided with becoming familiar with the paintings of Pablo Picasso. Since the 1950's Picasso has become so fashionable, that it's almost impossible for a beginning artist not to be influenced by Picasso's abstract art, although it's actually a very personal style, but one that went very well with the way the western world developped during the post-WWII period. Especially the sexualization of his pictorial language won him many friends during the "sexual revolution" and it were his semi-abstract paintings of his lover Sylvette David that won the general public over and made him an ambassador of abstract art.
However, there comes a time in the life of an abstract artist that he gets fed up with painting abstract art portraits of pretty girls. As has been mentioned several times on this site, this artist is currently trying to incorporate an element of social realism into his art by taking on subjects that go beyond portraits of fashion models and ICQ friends, an example of this is the "abstract art portrait of an American homeless man".
In a sense this conflicts with the development of abstract art, which is characterised by a shift in emphasis from "content to form", roughly speaking. Before the 19th century art had a narrative function, it should tell a visual story that related to real life events, myths or religious scenes. Then, under the influence of philosophers art became independent from the subject matter. Art should offer the viewer a pure visual experience instead replicating the real world. This transition was a gradual process with as it's pivotal point the creation of cubism, around 1910, by Picasso and Braque, which led, shortly thereafter to the pure abstract art of Malevich, Mondrian and others.
In spite of his key-role in the development of abstract art, Picasso never fully surrendered to pure abstract art, sometimes coming very close to pure abstract art, but on the whole retaining an element of figuration. Perhaps it's due to Picasso's influence that this artist prefers to keep in touch with the figurative, without shunning pure abstract art completely. It suffices to say that although technically the artist is essentially into abstract art, a need is felt however to incorporate an element of realism that is recognizable. As explained above, this goes against the original development of abstract art, but many abstract art painters today see abstract art as a technique rather than a philosophy.